Is Static Stretching Evil?
Over the last couple of years, there has been a lot of research regarding stretching, static stretching to be exact.  In most cases, the research has been about static stretching and its affect upon performance.  Even with all this research, the average person probably hasn't been exposed to the data, tucked away in technical research journals.  In the past, static stretching appeared to be the most popular form of stretching.  Recent studies have shown that this may not be the best approach, at least before exercise or athletic events.  However, I still see some sports teams, endurance athletes, and individuals in the gym, using static stretching as part of their pre-activity warm-up.  Let's take a closer look at the multitude of research that has been presented on this topic.  I also have suggestions for what may work best in terms of stretching for pre-activity warm-up and post activity cool-down.
Should static stretching be included in a warm-up?  The evidence points to "no".  It appears to hamper performance and this has been proven in several studies.  A study in the Journal of Strength and Conditioning Research (JSCR) showed that while static stretching did improve flexibility in a sit and reach test, it impaired both sprint performance and counter-movement jump in adolescent boys and girls. Static stretches in this study were held for 40 seconds.  Looking at the results from the study, we can see they did improve their flexibility, so that's a good thing, right?  A study by McGill and colleagues showed that hip stretching helped improve passive hip range of motion (ROM), but it did not transfer to improvements in functional movement patterns. They got more flexible but couldn't make use of it in movement. How long can the negative affects of static stretching last? More research out of the JSCR found that static stretching had negative affects on explosive power up to 24 hours post-stretching, but caused no major affects on repeated sprint ability (RSA) in the same time frame.  Sixteen youth soccer players performed 15 minutes of static stretching, 24 hours before testing explosiveness and RSA. People who static stretched before running events didn't fare much better.  In the September 2010 JSCR, researchers found that static stretching before an endurance event actually increased their energy cost of running and decreased performance. The stretching group performed 16 minutes of static stretching for lower body muscle groups, utilizing 5 different stretches before a 30 minute run. The non-stretching group sat quietly for 16 minutes.  One more JCSR study revealed that static stretching decreased performance in a one mile time trial at 5% incline. Six lower body stretches were held for three 30 second repetitions while the non-stretching group sat still for 10 minutes. Maybe those non-stretching groups visualized a better performance during their quiet time, but even if they did, it looks like static stretching was bad for performance in the stretching group.  With all that research I mentioned, plus more out there that I didn't, it appears the best strategy is to employ dynamic mobility drills combined with Self Myofascial Release (SMR) before physical activity. When should you warm-up before a big event? A JSCR study involving Division 1 college volleyball players suggested the following guideline; a dynamic stretching routine should be employed within 5 minutes or less of the activity or event to elicit the best results. They looked at static stretching also in this study, and found it to have negative affects. If someone is severely limited in mobility before a workout or event, PNF stretching may be a valid technique.  PNF stands for Proprioceptive Neuromuscular Facilitation which encompasses several different techniques.  I have used a contract/relax technique with some clients before a workout, and have gotten some good results.  I have the client perform a six second isometric contraction with the restricted muscle and then relax, and then we move the limb into an increased passive range of motion.  It can help increase mobility and then we usually follow it up with a mobility drill or corrective exercise to make use of the new ROM and take ownership of it, actively. A study out of Brazil showed that a moderate amount of PNF stretching before resistance training had no negative affects upon performance.
So should we completely throw out all forms of static stretching?  My answer on that is also, "no". Static stretching still has benefits, just save the static stretching for after an event or activity.  For overall health and well being, I believe balance is usually best.  It reminds me of the whole High Intensity Interval Training (HIIT) versus Long Slow Distance (LSD) debate. HIIT delivers some fantastic results in a short amount of time, but there is still value in LSD, and you may be missing something if you only focus on one.  The pendulum swings to the extremes at times, but somewhere in the middle is probably the sweet spot. Here are a couple of positive benefits associated with static stretching that are probably lost in the excitement of dynamic stretching.  A Journal of Physiotherapy study concluded that passive static stretching could help lower glucose levels.  In another study from the JSCR, static stretching rapidly increased parasympathetic activity, helping to induce relaxation.  Relaxation, I feel, is probably it's greatest benefit.  Just remember, it's best utilized after activity or before bed. However, in a study I mentioned earlier, static stretching can affect explosive power for up to 24 hours. I would recommend abstaining from static stretching the night before an important athletic event or training session if it falls within that 24 hour window.
There you have it.  It's a pretty clear case against static stretching before activity, but if your mobility is significantly restricted, you may want to use a moderate amount of PNF stretching.  Dynamic mobility and SMR work will yield the best results in your preactivity warm-up.  Dynamic mobility is also great for a post activity cool-down.  Remember, you can stretch dynamically,  in three planes of motion for best results.  Save the static stretching for post activity and possibly in the evening, when the relaxation benefits may help improve your sleep quality.  If you choose the appropriate type of stretching at the appropriate time, you will grasp the benefits of improved flexibility and performance.
Sample Dynamic Warm-Up:
Foam Roller: 30 seconds on Upper Back, Glutes, Hamstrings, Calves, and Quads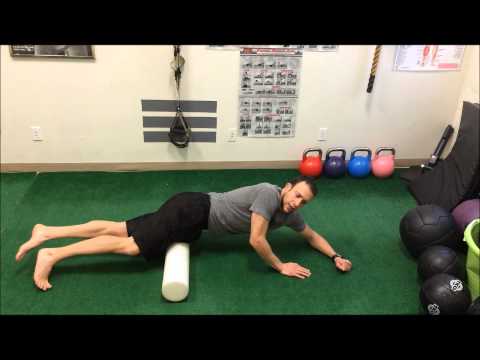 On Back:
1) Abdominal Breathing- 5 Deep Breaths
2) Cook Hip Lift- 10 reps each side
3) Overhead Arm Raises- 10 reps
On Hands and Knees/Feet:
4) Cat/Camel- 5 reps
5) Kneeling Rock Backs- 10 reps
6) Hip Flexor Mobility- 10 reps ea side
7) Spiderman Climbs- 10 reps ea side
8) Yoga Push-Ups- 10 reps
Standing:
9) Hip Hinges- 10 reps
10) Body Weight Squat- 10 reps
11) Knee to Wall Ankle Mobility- 10 reps ea side
12) Burpees- 10 reps